Hiking, Camping, and Outdoor Education
Summer is Here and the Mountains are Calling
It's prime time on the trails!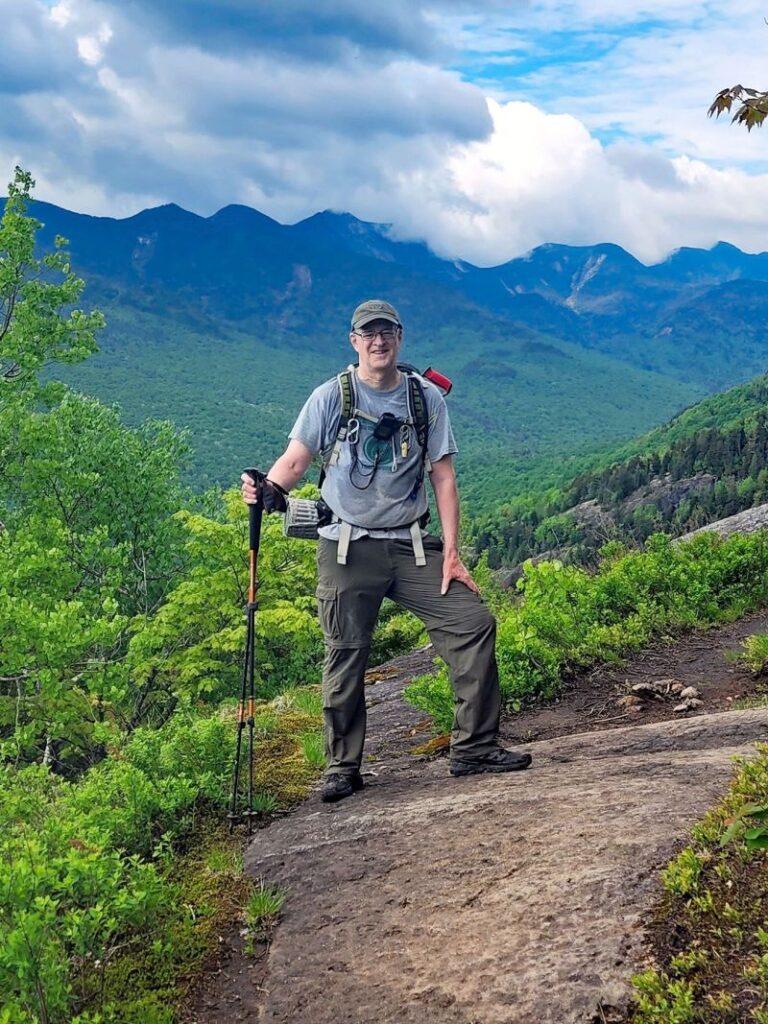 Its too soon to say if the backcountry will be as crowded as it was in the heart of the pandemic. Anecdotally, the parking and trails have seemed less crowded on some of our recent trips, but those were prior to the start of the peak summer season.
Parking restrictions that were in effect last year at popular backcountry spots in New York have been continued this year. See the article below for more information.
I've had an exciting year and have added Wilderness First Aid Training (WFA) to our list of services. There are two full classes scheduled in the next few weeks. I'd be happy to arrange a WFA class for your group.
Elsewhere in this issue of HERDPATH, the Catskill social hikes scheduled through the remainder of 2022 are listed. Check out the timely articles about summer camping and hiking and news of upcoming beginner backpacking workshops.
I hope to see you soon on the trails!
—Ed Moran
New York Responds to the Popularity of Some Backcountry Areas by Limiting Access
Over the past couple of years a few of the most popular areas in New York State have seen some changes to limit access during peak times, mostly by reducing the amount of parking available (and stepping up enforcement of illegal parking).
In the Catskills, these areas have included Kaaterskill Falls and Peekamoose Blue Hole.
For Peekamoose Blue Hole, a permit ($10 through a commercial website) is now required from May 15—September 15. This affects not only the famous swimming hole, but all areas along Route 42 in the Peekamoose Valley Riparian Corridor. Hikers and campers seeking destinations elsewhere in the area, including the trail to Peekamoose Mountain, will also need to obtain a permit before going, so plan ahead.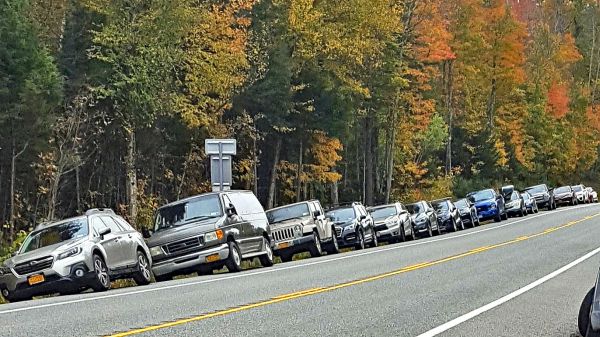 In the Adirondacks, the state DEC and the Adirondack Mountain Reserve (AMR) are continuing the "pilot" reservation system implemented last year. In this case the online permitting system is run by the AMR and there is no charge for the parking reservations, which are required May 1—October 31.
Reservations are limited to 70 cars per day and can be made at
The AMR property is a popular access point for trails to many of the Adirondack High Peaks and other popular hiking destinations. It is a privately owned club and preserve with a perpetual easement that allows public access to hike, ski and snowshoe on designated, marked roads and trails within the AMR.

2022 Catskill Social Series
The popular Catskill Social Series of hikes has continued in 2022.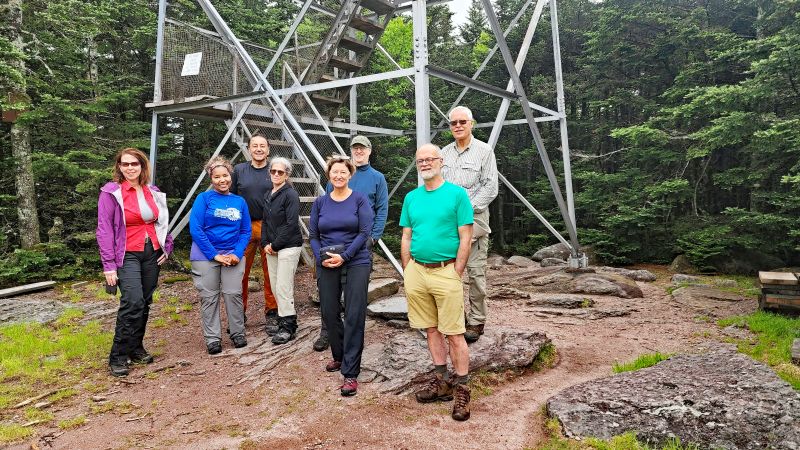 This is a great chance to hike with a guide and meet fellow Catskill hiking enthusiasts. You must register in advance, have the proper gear, and appropriate fitness for the hike. If you want to attend any of these hikes, but are not sure of your ability, please feel free to call and ask.
Here are upcoming social series hikes that have been scheduled for this summer and fall:
Thursday July 7 – Kaaterskill High Peak
Thursday August 11 – Windham High Peak
Thursday September 15 – Big Indian Mountain
Thursday October 13 – Westkill Mountain
Thursday November 10 – Balsam Lake Mountain
Thursday December 8 – Rusk and Hunter Mountain
See Details and Registration Information at: https://easternoutdoorexperiences.com/2022/02/02/catskill-hikes-2022-social-series/

Hiking Weather Awareness
Summer is severe weather season in the northeast. Occasionally you get the perfect day, but some days the mountain weather is more threatening.
The single most effective way to stay safe from lightning is to avoid hiking on days when storms are forecasted. The old adage to hike early and finish early to avoid storms is true, but morning storms can still happen in the Catskills, Adirondacks, Green and White Mountains. However, on most summer days the main threat of storms comes around or after 2pm as the uneven heating of the ground and air by strong summer sunshine creates instability in the atmosphere and feeds energy into puffy clouds that can rapidly grow into thunderstorms. This phenomenon is greatest in the mountains.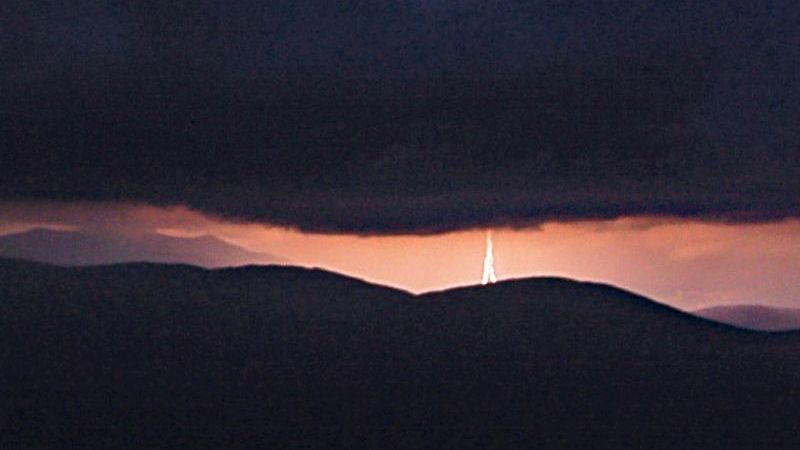 Sometimes despite your best intentions, you get caught in a storm. Summer storms can bring dangerous lightning, high winds that can bring down tree limbs and heavy rains that can cause stream levels to rise rapidly. Hikers should not underestimate the risks that a stream crossing that was easy in the morning could become a raging torrent after a sudden heavy rain. In higher elevations, a sunny warm morning can turn into a cold, wet, windy afternoon that poses a serious risk of hypothermia. You should always have something warm and something waterproof in your daypack.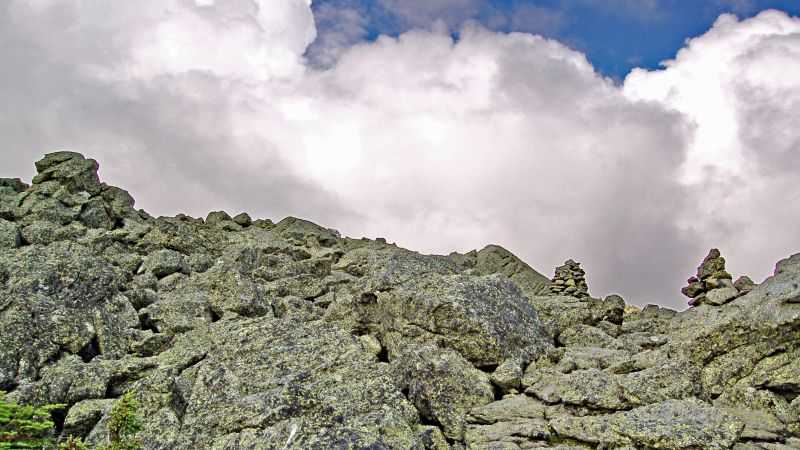 Unfortunately, there is no place immune to lightning on the trail when thunderstorms are in the area.. There are places that are worse than others and should be avoided during storms. Some of these include mountain and ridge tops, on or next to the water, under the lone tall tree in a field, and in a cave or under a rock overhang. Many people will instinctively shelter under large trees and rocks, but studies have shown that these are more dangerous during lightning storms. Relatively safer places include uniform groves of smaller trees away from ridgetops. If you hear thunder or see threatening weather in the distance, it is time to get off the mountain and ridgetops. It is very easy to run out of time if you delay responding to early warnings of impending bad weather.
When venturing into the mountains you need to be weather smart, follow forecasts and keep an eye (and ear) on the sky. The message here is to prepare, plan, and know what you will do if things don't go according to plan.

I check the weather forecasts before I go and rely mostly on the National Weather Service. They have an extensive network of seasoned and experienced local forecasters backed by various regional and national teams of specialists in weather modeling, severe weather forecasting, river level monitoring, etc.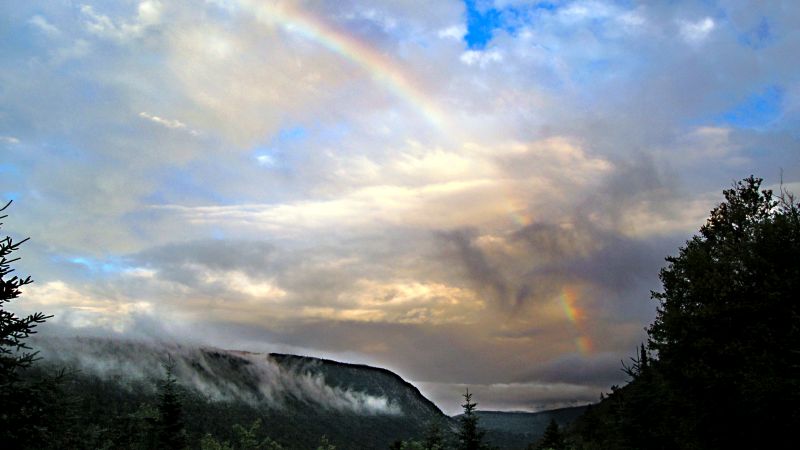 When planning your hike, you should think about the weather forecast in terms of what can go wrong. You will need more information than the simplified icons on a weather app to have a feel for that. One way to gage the forecasters confidence in their forecasts (and hence get a feel for what can go wrong if it does) is to read the forecaster's discussions concerning their forecasts. This can get a little technical and isn't for everyone, but with a little practice you can get a feel for when there is more uncertainty in a forecast that goes way beyond the basic probabilities of rain.

In my opinion, commercial apps that try to pinpoint the weather by the minute or hour are not reliable enough to be a sole source for backcountry weather information. While the apps can sometimes be correct, they are basically giving a forecast pulled directly from the output of one weather model. There are many weather models, and they will all have differences in their forecasts. Which model is your phone app using? We are not at the point where technology alone can match the accuracy of forecasts with human oversight.

In the northeast, the National Weather Service offices at Burlington, Vermont and Gray, Maine produce recreational forecasts covering higher elevations in the mountains for areas from northern New York through Maine. Save these bookmarks for the recreational forecasts pages:
Northern New York and Vermont: https://www.weather.gov/btv/recreation
New Hampshire and Maine: https://www.weather.gov/GYX/recreation

Beginner Backpacking Workshops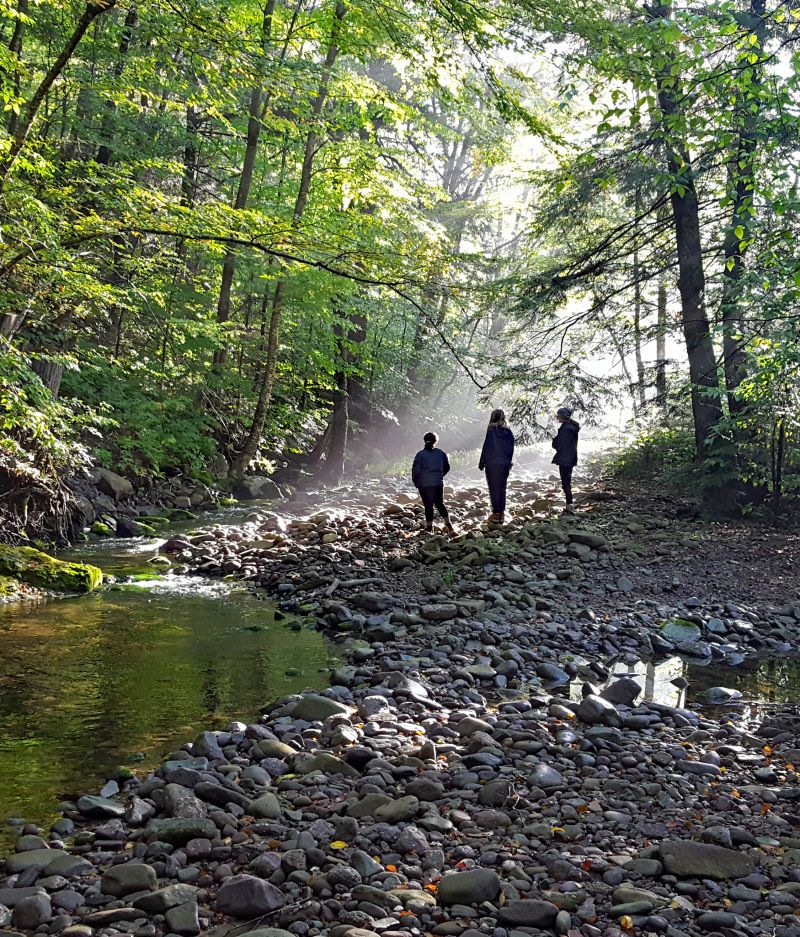 Upcoming Dates:
July 23—24, 2022
August 19—20, 2022
October 22 – 23,2022
Our Catskill Backpacking experience is a fully guided overnight group hiking and camping trip. Ideal for beginners and novices, this fun and hands-on experience focuses on teaching backcountry fundamentals in a small group setting. Chose from one of our scheduled group workshops or request special dates for your small group.
What's included:
Meals (1 lunch, 1 dinner, 1 breakfast)
Group gear (e.g., tents, cookware, stoves, water filtration, fuel). Carrying the group gear and food will be a shared effort.
Licensed, professional outdoor guide, instruction and coaching (before and during the trip).
See more Details and Registration Information at: Catskill Backpacking for Beginners

What's in the Guide's Pack
You've probably run into people eager to tell you that the gear they spent a lot of money on is the best and is the only way to go. They'll tell you that what's best for them is also best for you. I'm not going to do that because there is a lot of great gear out there. There is also gear improperly advertised for a specific purpose for which it is not appropriate (if a "backpacking" sleeping bag weighs 7 pounds, stay away). It is important to learn how to evaluate and select your gear (see the article about choosing a sleeping bag on page 6 of this edition). The following describes what I most often carry as a tent and sleep system. I happen to be very happy with my 3-season backpacking set up: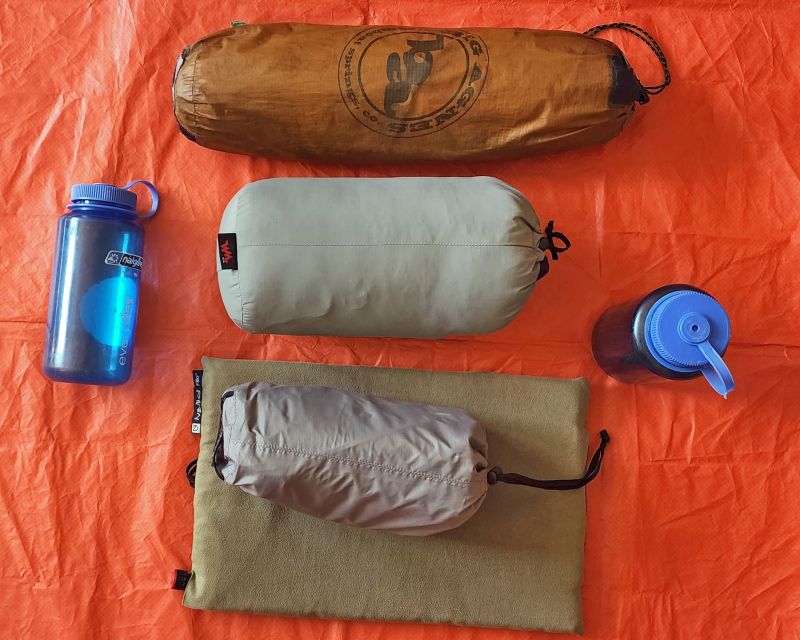 · Big Agnes Fly Creek UL2 tent
· Western Mountaineering Caribou MF 35 down sleeping bag (long)
· Thermarest NeoAir Xtherm sleeping pad (large)
· Nemo Fillo camping pillow
These 4 items have a combined weight of only 5.5 pounds. It is not inexpensive gear, although far from the most expensive. I started out successfully with cheaper, heavier gear and then bought one higher end item per year. The following are a few notes about my backpacking gear:
The Big Agnes tent weighs 2lb 3oz and is very compact to carry. The tent has only one entrance and is wider and taller at the entrance end of the tent. The back-end tapers down in size and the back two corners need to be staked, so this this is not a completely free standing tent. It is allegedly a 2-person tent, but good luck with that.
The sleeping bag weighs 1lb 7oz and has kept me warm at temperatures below freezing.
The sleeping pad is inflatable and weighs 1lb 6 oz. It fits in a stuff sack that is about the size of a 1 liter bottle. It was noisy (crinkly) at first, but after many nights, has noticeably quieted down.
The pillow weighs 9 oz. The outside has a soft covering and the inside is a comfortable combination of an air bladder and memory foam. The pillow fits with some effort into the integrated stuff sack (about the size of a block of raman).

Featured Peak: Windham High Peak
Windham High Peak is one of the least strenuous approaches to a Catskill high peak and this 6-mile hike features a little less than 1500 feet of elevation gain. Windham is the northernmost of the 35 Catskill High Peaks and it has some great views from the top of the Catskill Escarpment. On a clear day you can see Albany and beyond into the southern Adirondacks, Taconics and southern Green Mountains in Vermont.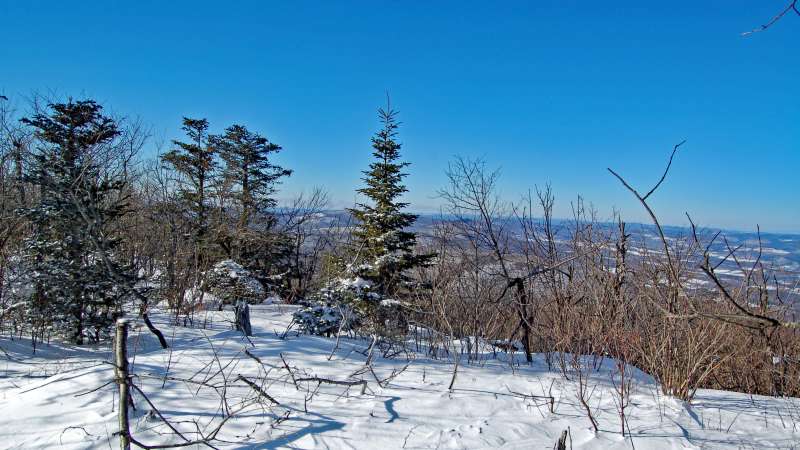 The area below Windham High Peak to its north was once known to many as the "Irish Alps". My father and grandparents spent a lot of time there long ago. My grandfather was attempting to convalesce in East Windham after he had contracted tuberculosis during the first half of the last century. It was believed at the time that the fresh air of the country was the best remedy for the disease. At the time it probably was.
The Irish Alps are centered around East Durham, but my relatives had their little piece of it on the Escarpment near East Windham. We'll be visiting Windham High Peak during the August Catskill Social Series hike.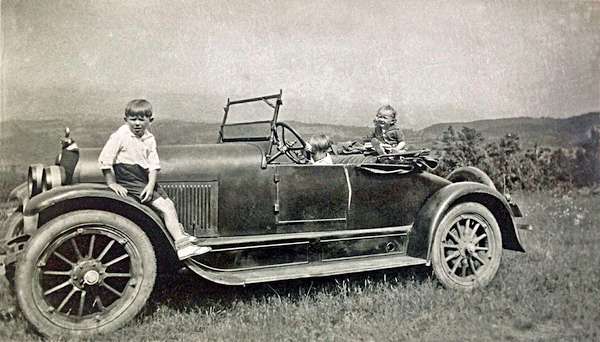 What you need to know before choosing a sleeping bag
I get asked a lot about how to choose a sleeping bag. Most people are looking for a bag for warmer weather backpacking (i.e., not winter, aka 3-season sleeping bags) and that is what this article is primarily about.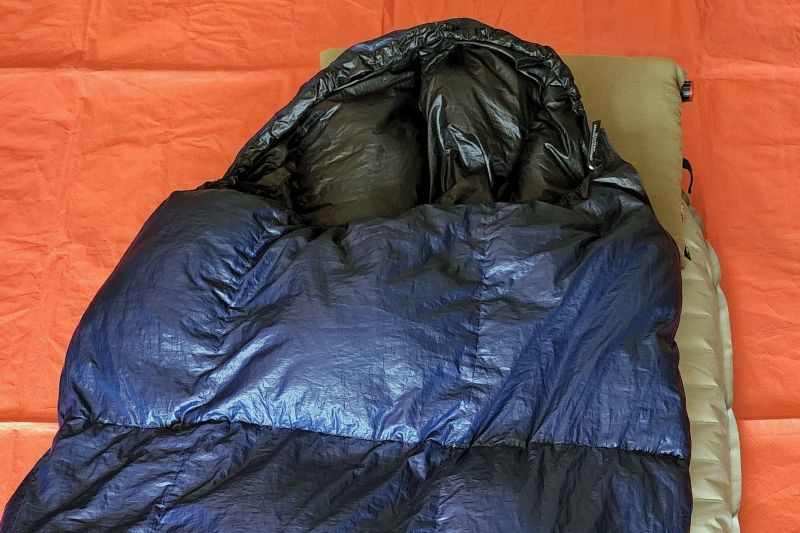 If you choose a bag that is good for backpacking, rest assured that it will also be good for car camping but the reverse is not true. However, if you are only car camping you don't have to worry about weight and can buy a less expensive bag.
When choosing bags, don't overlook the specifications (specs). Reading the specs becomes a habit, at least it does if you are a guide. If the sleeping bag specs do not list weight and stuff size, they probably won't meet your requirements… or you might have to dig deeper to find more detailed specs. The following explains some of the specifications:
Temperature Rating
For most 3-season backpacking, a good 20 degree rated synthetic bag is sufficient. When temperatures drop below 40°, some similarly rated bags will be fine while others might be too cold. A 30 – 35 degree rated down bag is also a great solution and more often true to the temperature rating.
·The actual warmth of similarly rated bags varies widely so you should research legitimate user comments and reviews.·
Some manufacturers exaggerate how warm their bags are.·
Many sleeping bags will be listed with two or more different types of temperature ratings (e.g., survival rating, comfort rating, upper and lower limits, etc.).·
In many cases the highest temperature rating is the one that will have the most meaning for the user who is sleeping in it. I have a couple of old 20° synthetic bags that are cold if the temperature gets much below 55°. That's because the synthetic insulation compresses over time and doesn't trap as much insulating air. Down tends not to lose much of its "loft" compared to synthetic insulation and a good down bag can last a long time if taken care of.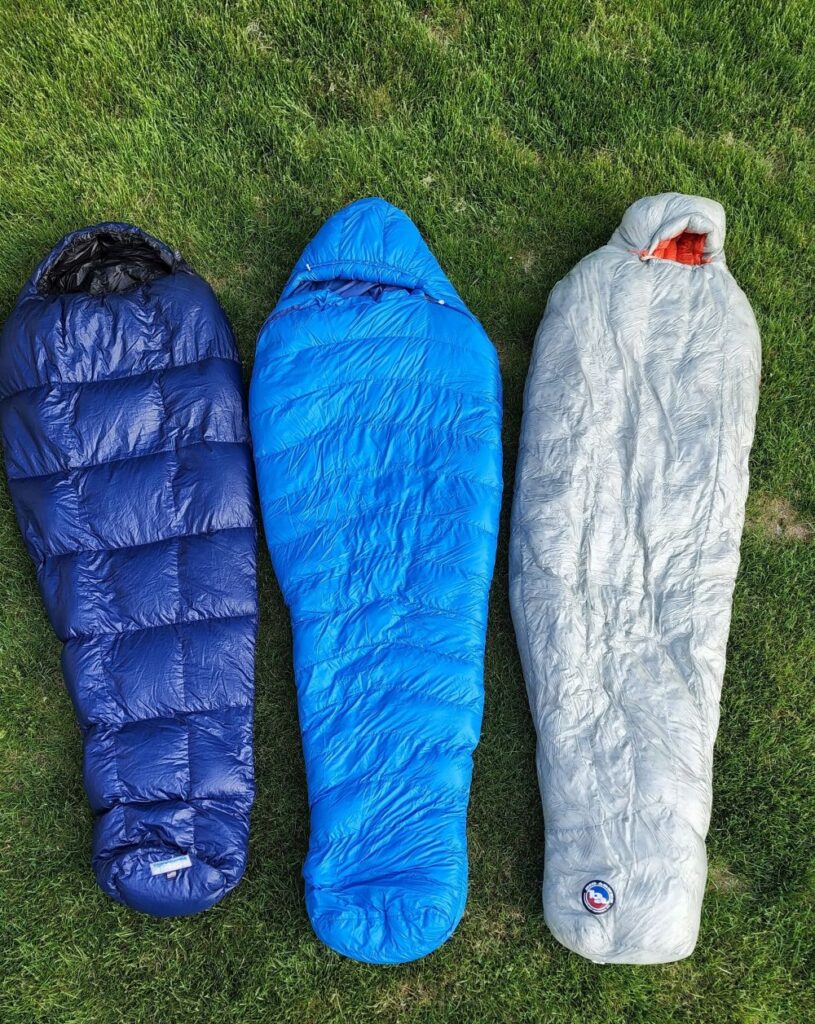 Weight / Packed Size
Two specs to consider when selecting a backpacking sleeping bag are the weight of the bag and the amount of space it takes up when stuffed into your backpack (the "stuff size").
For a three-season bag aim for 4 pounds or less, 3 pounds is good for a synthetic bag. Two (2) pounds or less is ultralight and probably down (a good choice if you want to spend that much). That is because down fluffs better than synthetics and therefor a smaller weight of down will yield the same warmth (and it compresses smaller when in your backpack)..
For 3-season backpacking, I look for "stuff sizes" less than about 8 x 18 inches. Bigger than that and it may be too big for your backpack. 6" x 12" or so is very good, but 8x 17 (for example) will be good enough for most people. "Stuff Size" usually refers to the size of the stuff sack provided with the bag. Some bags might be able to be compressed a little smaller, but for most bags the stuff size is the metric to use when choosing. Compression sacks have buckles to really squash down a sleeping bag, but if you need one to fit the bag in your backpack, the bag you are compressing may also be too heavy for most backpacking duty.
Most sleeping bags come in two sizes (regular and long). For men, regular fits up to a height of 6 feet and long sizes fit up to 6'6". It may vary among manufacturers, but they usually have a size chart to go by.
Length:
Sleeping bags commonly come with men's sizes described as regular (fits to 6 feet tall) and long (fits to 6' 6") and women's sizes described as regular (fits to 5'6') and long (fits to 6') . Some manufacturers may have different variations of sizing. One well known outdoor goods manufacturer makes a range of men's sizes but only one size for women ("regular") that fits up to 5' 8". It is an unfortunate reality that the tallest men and women have fewer choices.
If a bag is too big, there will be more air in it for your body to heat which will make it a little colder. If it is too small, you will compress the insulation more, making it colder. A little too big is better than a little too small. If you are 5"10, you can go with a regular (male sizing). If you are 6" 2", its best to go with a long.
A little extra room in the foot bed can be a convenient place to finish drying clothes (such as the days damp tee-shirt). I get residual moisture out of socks by placing them over my chest. I hardly notice that they are there, and they come out in the morning dry and warm and ready for a second day of use.
Material (down vs synthetic insulation)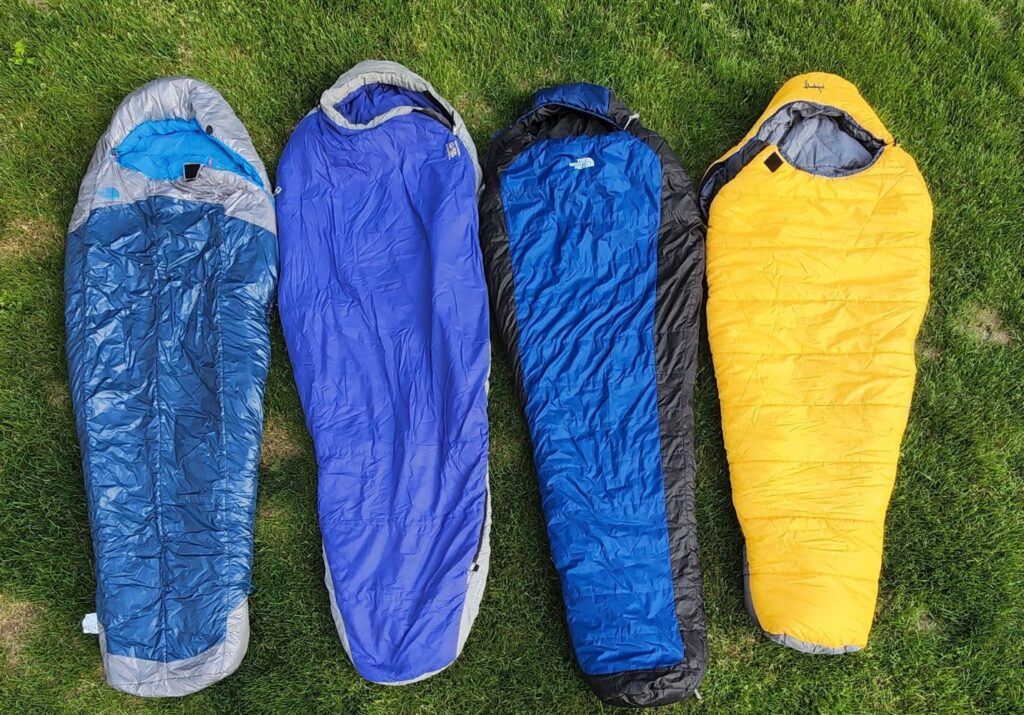 Down is my favorite, but it will not keep you warm if it gets wet. However, I use down sleeping bags and have never gotten them wet. It is pretty easy to keep your sleeping bag dry. Synthetic insulation will still insulate a bit when wet and dries faster than down.
Down bags are more expensive than synthetic bags.
A couple of manufacturers have a down bag that doesn't have insulation on the bottom, but instead a sleeve that integrates with a sleeping pad. While there are some reasons that this makes sense, there are also possible downsides and I think it is a bit gimmicky. It might also lock you into needing to buy a pad from the same manufacturer.
Shape of the Sleeping Bag
"Mummy" shaped bags are the best bet if temperatures are approaching the comfort limit of the bag. Rectangular bags are fine when its warm, but you can spend a cold night in one if it is a little chilly. A minority of people do use rectangular shaped bags, but I do not.
Bigger, roomier bags (mostly rectangle shaped) are easier to roll over in. In a tighter fitting mummy shaped bag, you turn from one side to the other by rolling the entire bag and your body together. If its cold, you will briefly notice the cold on the side you were most recently lying on until the insulation re-lofts (i.e., the part you had been laying on fluffs back up). It's usually worth a few seconds of chill to get into a more comfortable sleeping position.
Most bags come in men's and women's models. It varies, but women's bags may feature one or more of the following differences: shorter than men's, have a little bit more insulation, be a bit narrower at the shoulder and wider at the hips, and may have a bit of extra insulation in places, for example in the footbox. Some women may sleep warmer in a women's bag, and some may not notice much difference. Women tend to sleep colder than men, or at least that is someone's working theory. I don't sleep like a man or a woman; I sleep like me. The point is, if you've done much camping, you already know if you were warm or cold in the sleeping bag that you used.
After Buying Your Sleeping Bag
Storage:
Store your sleeping bag in a dry place . You should never store a sleeping bag compressed in the stuff sack when not in use. If you store a sleeping bag compressed (especially synthetic bags) it will lose some ability to re-loft and not be as warm when needed.
Cleaning:
It is ok to wash sleeping bags, but it is difficult to do this without redistributing the insulation resulting in clumped insulation and "cold spots". I take pains to keep my bag clean. You can protect the inside of the bag by using a liner which is more easily washed. In addition, sleeping bag liners will add to the overall warmth of your sleeping system. I use one made of silk which is lightweight and packs up very small. On warmer nights, I can sleep in just the liner. If you must wash your bag, handwashing is recommended and dry with gentle, low heat.

Catskill Fire Towers: and then there were 6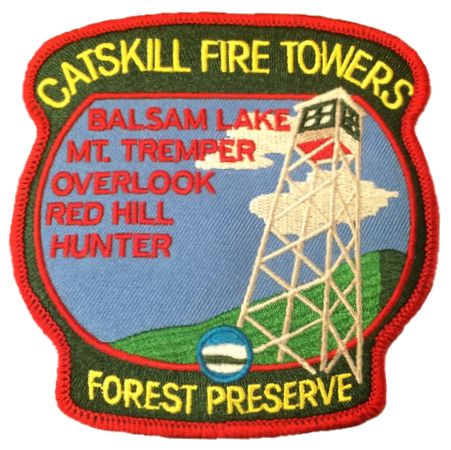 The Catskill Fire Tower Challenge has traditionally included 5 towers: Balsam Lake Mountain, Mount Tremper, Overlook, Red Hill, and Hunter. In addition, there is an ADK Fire Tower Challenge, sponsored by the Adirondack Mountain Club which, despite the name, also includes the 5 Catskill Fire Towers as well as at least 18 (out of 23 still standing) fire towers in the Adirondack Region.
For the past few years, The New York State Department of Environmental Conservation has been promoting a new and improved "Catskills Fire Tower Challenge" in partnership with the Catskill Center. This latest challenge requires that each of the Catskill fire towers be hiked in the same year to earn a patch and a chance to win outdoor prizes. Most recently a 6th tower has been added to the requirement: the "Upper Esopus" tower that was erected at the Catskill Visitor Center in Mount Tremper shortly before the arrival of the pandemic. With groundbreaking planned later this summer on a project to rebuild the Bramley Mountain Fire Tower in the western Catskills, perhaps there will eventually be a 7th tower on the list. If you're wondering, the ADK challenge hasn't changed; it still requires the original 5 Catskill towers plus the 18 Adirondack towers.
A few of the towers are easy, but we do guide to the fire towers for our clients who need just a little extra assistance.

Memorable Moments from the Past Year (photos)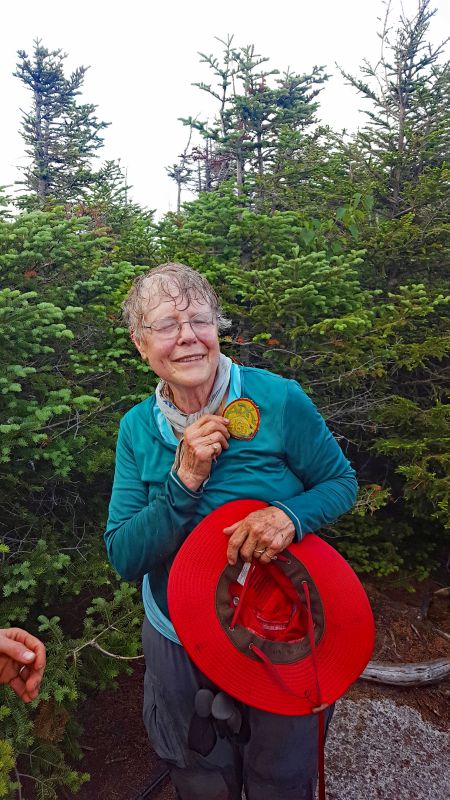 CATSKILL SOCIAL SERIES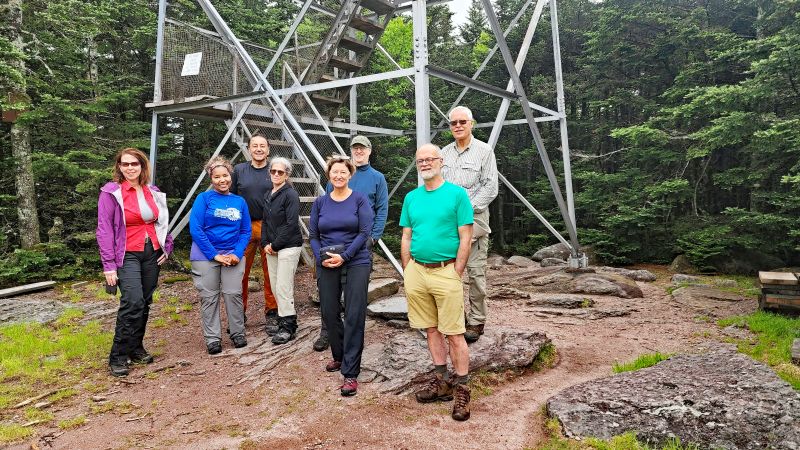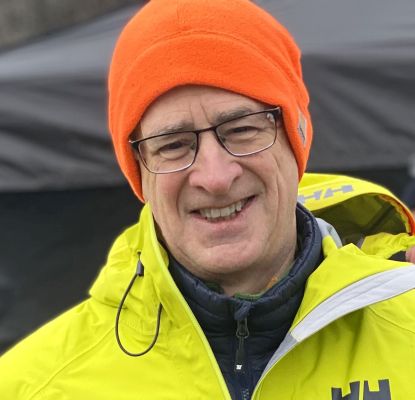 Who we are:
We is me (Ed). Eastern Outdoor Experiences is a sole proprietorship. Basically, that means I do almost everything. Including this newsletter. Let me know if you've enjoyed it.

I've been hiking and camping in the northeast for decades. I am a Catskill 3500 member (regular, winter, and most of the way through the Catskill grid), an ADK 46er, and am working on my 3rd round of the White Mountains 48 4000-footer peaks.

I'm a Wilderness First Responder, a member of the Catskill Mountain Search and Rescue team, an assistant Scoutmaster, and a Director of the New York State Outdoor Guides Association. My New York Guide License is #7568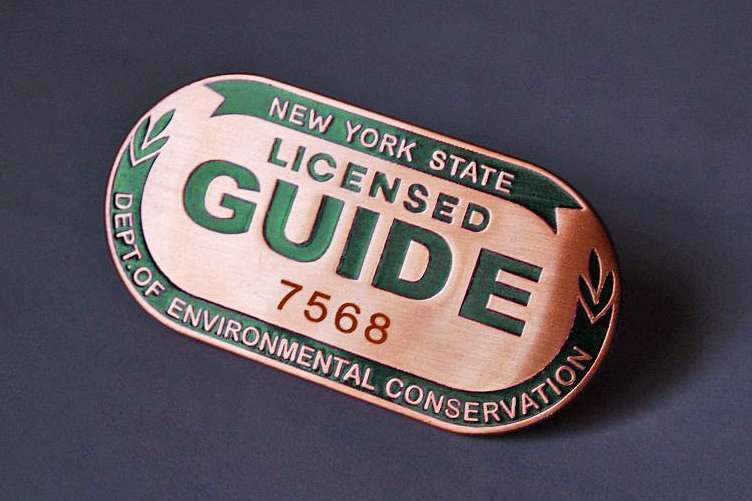 What we do:
Hiking, Backpacking, Camping, Paddling
Outdoor Skills Education
Wilderness First Aid Instruction and Certification
Beginner to advanced, individuals and groups
I take care of planning and logistics so you don't have to
Where we do it:
I guide mostly in eastern New York State from the Adirondacks to the Catskills, Lower Hudson Valley, and Long Island.
Upcoming Group Events
JULY
July 7 Kaaterskill High Peak (social series)
July 16—17 Wilderness First Aid (New Jersey)
July 23 – 24 Beginner Backpacking
July 30—31 Wilderness First Aid (Long Island)

AUGUST
Aug. 11 Windham High Peak (social series)
Aug. 19—20 Beginner Backpacking

SEPTEMBER
Sept. 15 Big Indian (social series)

October
Oct. 13 Westkill Mountain (social series)
Oct. 15—16 Wilderness First Aid (3500 Club)
Oct 22 – 23 Beginner Backpacking

EASTERN OUTDOOR EXPERIENCES
ed@easternoutdoorexperiences.com
phone/text: 631-741-3765
Contact Form Online Calendar
(see online calendar for updates and full listing)
© 2022 Edward Moran. Please contact author for reprint permission