Presidential Range Traverse – August 27 – 29, 2014
This was a three day traverse of the Presidential Range that included all of the peaks in the range.  After hiking Mount Madison on day 1, we spent the night in the newly renovated Madison Springs hut.  On day two we hiked the northern Presidential range including Mt Adams, Mt Jefferson, Mount Clay (a 5000 footer but not officially one of the New Hampshire 48) and Mount Washington where some of us posed for photos on a very windy and foggy summit.  The weather on the ridge was cloudy, windy and chilly but no rain fell and the view down into the valleys was relatively clear.
We then spent the second night at the Lakes of the Clouds hut where we refueled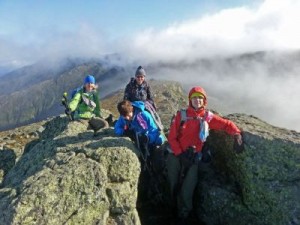 and rested before hiking the southern part of the range on the final day of our Presidential traverse. Good luck was with us as there was no rain during the three days of this traverse.
The third day was the nicest of the three, although it was a very windy start until we were past Mount Monroe.  From there we hiked over Mt Franklin where we could not decide which of the many small bumps was the summit of this unofficial 5000 footer (it is an extension of Monroe).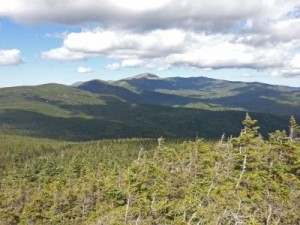 After Franklin we hiked over Mount Eisenhower and Mount Pierce and made a quick stop in the Mizpah Spring hut on the way to Mount Jackson.  The views from Mount Jackson's rocky summit over the southern Presidential range back to Mount Washington (from where we had come) were impressive.
We added in Mount Webster for the spectacular views over Crawford Notch before hiking down to Route 302 and finishing the traverse at the AMC Highland Center.