The Hancocks – July 19, 2014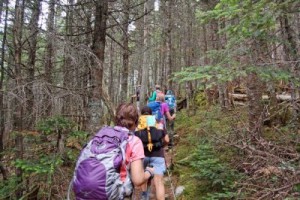 Day 2 of our Whites trip featured a circuit of the Hancocks (Mount Hancock and South Hancock). The weather was a little more humid and not as clear as the previous day in the Tripyramids, but remained dry and was still a nice day to hike.

We started and ended via the Hancock Notch Trail head near the hairpin turn on the Kancamagus Highway.  The total hike was about 10 miles. mostly gentle except for the Hancock Loop trail that goes over both summits with steep ascents and descents.