Esther and Whiteface – October 13, 2013
On Sunday of our Columbus weekend outing we led a hike to Esther and Whiteface Mountains. The weather was unseasonably warm (in the 70s in Lake Placid!) and most of the group wore shorts.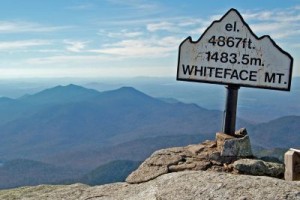 We started our hike from the ASRC, and explored a little of the old ski area at Marble Mountain on the way. We visited Esther first via the herd path, then continued on to Whiteface, where we enjoyed the summit views and checked out the summit observatory before hiking back to the parking lot at ASRC.
While on the summit of Whiteface we met another hiker who had just completed his Adirondack 46'er quest and was met there by his friends and family for a celebration. After our hike we celebrated a great weekend with a group dinner in Lake Placid, where it was still warm enough to eat outdoors.