Liberty and Flume – August 31, 2013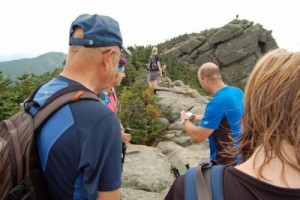 Part of our pre-labor day White Mountains trip, this was an 11 mile thru-hike from the Flume Visitor Center to Lincoln Woods. It was a very warm, humid and mostly cloudy day, but very little rain fell. Beginning on the Whitehouse Trail we quickly reached the Liberty Springs Trail which becomes increasingly steep until it reaches the junction with the Franconia Ridge Trail. We stopped at the junction for a snack and to cool off and spoke briefly with a ranger who was making the rounds.

From there it is a short hike up to the pyramidal open summit of Mt Liberty where we stopped and admired the views through the haze and took a bunch of photographs. There were good, although somewhat hazy views of Mt Lincoln and Cannon to the north, the Pemigewasset to the east and our next stop, Mt Flume to the south. The slides on the west side of Flume were very prominent.
From Mount Liberty to Mount Flume is 1.2 miles with a fairly steep descent of 600 feet into the col before climbing back up to the equally pointy rocky summit of Flume. We took about an hour between the two summits. By that time the fog had rolled in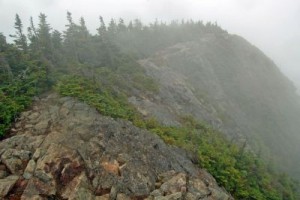 obscuring any views and there were some light rain showers. Behind the summit of Flume is a tricky ledge before moving away from the top of the slide towards the Osseo Trail. The Osseo trail is one of the gentlest descents from a 4000 foot White Mountains Summit. The top mile is quite steep, but a lot of that elevation change happens over a long series of switchbacks and ladders. The last 4 miles of the hike out to Lincoln Woods via the Osseo and Lincoln Woods Trails is on smooth footing with gentle grades. The last couple of miles of the Osseo runs above a steep ravine, but the trail itself remains a walk in the park.