Mt Carrigain – August 30, 2013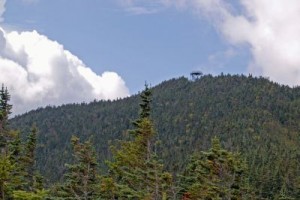 As part of an extended pre-Labor Day hiking trip in the White Mountains of New Hampshire, I took the group up Mt. Carrigain via the Signal Ridge trail. From the trailhead on Sawyer River Road this hike is about 10.6 miles and 3300 feet of elevation gain. In the winter, the road is closed and you should plan on this hike being several miles longer. The trail starts out alongside the Whiteface Brook and rays of early morning sunlight shining through the trees and illuminating the mist over the brook was wondrous. We took a lot of photos and got off to a very leisurely start.
Except for a couple of steep sections with a little bit of scrambling up on Signal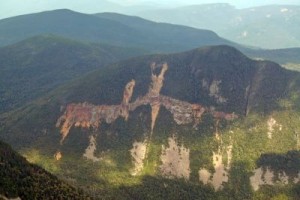 Ridge, most of the trail is quite gentle. We reached the summit where there is a tower and viewing platform about 3 hours after we started. It was a warm hazy day, often although not always cloudy, but for the most part we were able to enjoy the expansive views from the summit. There are also excellent views all along the Signal Ridge above 300 feet. Most notable is slide-scarred Mt Lowell directly across Carrigain Notch. From many angles the scars resemble giant primitive cave drawings, although we all saw different animals in nature's ink blots. The view from the trail of the ridge line itself is also quite spectacular.
Like so many of the hikes that we do, this one is definitely worth repeating.