Mt Willey – August 16, 2013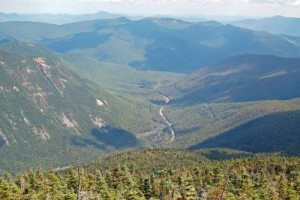 This was a day hike starting on the Ethan Pond trail at the Willey House station. It is a short hike at just about 5.5 miles, but includes about 2800 feet of elevation gain, almost half of which occurs during the last 3/4 mile before the summit. This steep section also includes an extensive set of ladders.

There are many good views including west towards the Pemigewasset Wilderness, northeast to the Presidential Range, and southeast along the U-shaped bowl of Crawford Notch where you can see Route 302 and the scenic railway line following the contour of the notch. There are especially up close and personal views of the cliffs on Mt Webster directly across the notch. We watched a couple of hawks soaring the thermals over the notch.
There are a number of good alternative routes to the Mount Willey summit, but this is the shortest distance. After a good workout getting up to the summit, we reversed direction and made it back the trail head in a little more than an hour.