Osceolas – August 14, 2013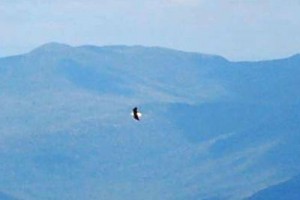 This was an out and back hike to Mount Osceola and East Osceola starting and ending at the Greeley Ponds trailhead on the Kancamagus Highway. The weather was beautiful, except for a brief shower while we were on the way back to the trail head.

The trail conditions were mostly good, but there was plenty of mud. The Mt Osceola Trail between Greeley Ponds and East Osceola is steep and one of the crumblier trails that I have been on in the Whites. There is a steep chimney on the trail between Osceola and East Osceola that we climbed in both directions. A large AMC group went around it, but that route looked almost as steep. We saw more than one group hiking with dogs turn around at the chimney.
From the Mount Osceola summit we were treated to the sight of an Eagle cruising over the valley to the north.