Thomas Cole Mountain Bushwhack – March 17, 2013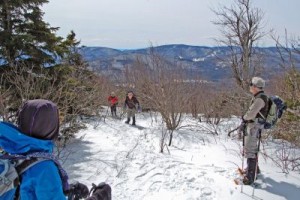 On St Patrick's Day we bushwhacked Thomas Cole Mountain via a route less traveled from private property with permission from the landowner. The weather was perfect for a late winter hike with sunshine and the temperature not too far below freezing and enough snow to comfortably wear our snowshoes for the entire hike.

With the kind permission of the Rip Van Winkle Boy Scout Council, we started the bushwhack from the the Tri-Mount Scout Camp in East Jewett, NY.
After starting out on trails that wound their way through the Boy Scout campsites, we chose a likely looking spot to start bushwhacking, set a compass bearing and headed off into the trees. There is an old trail on the Boy Scout property, but other than coming across a few rusty old blazes (tin can lids) we never did find any evidence of a trail.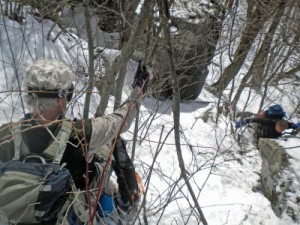 The route became quite steep in places as we approached the boundary with state land and yielded some interesting views back towards the Devils Path and the Hunter Mountain ski area. They were familiar yet different views from a new perspective. We eventually hit some very thick conifers and could see in spots that the summit was still pretty far away, but headed into the dense growth. We stuck as close as practical to our bearing as we worked our way through the points of least resistance, probing the fir and spruce for weak spots. We held a very good line up ridge to the summit, but a close up look at that line would show plenty of zigs and zags as we maneuvered around various terrain features.
It was a great feeling when we stepped into a small clearing and a few feet beyond that onto the well packed snowshoe trail along the Black Dome Range Trail.
After a little walking in both directions on the trail, we were satisfied that we had emerged on the trail right at the summit of Thomas Cole Mountain. After some lunch at the summit, we quickly got moving as it was cold at the summit. Because the thick trees had slowed our progress on the way up, we abandoned the secondary goal of hiking to Black Dome and followed our own tracks back to the scout camp. What had seemed difficult hike on the way up was fast and easy on the way back down. And fun too, as some of our group had their first experience with the fine art of glissading.