Kinsman Range – August 19, 2012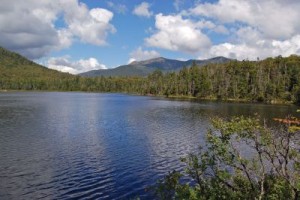 North and South Kinsman make a great destination as either a day hike or staying overnight using the Lonesome Lake hut as the base for day hiking. The hike from the hut to the Kinsman summits follows the route of the Appalachian Trail via the Fishin' Jimmy and Kinsman Ridge trails.
When the weather is nice, the views of the Franconia Range over Lonesome Lake from the hut and the views from the Kinsman summits are outstanding. The latter include views back to Cannon Mountain, Lonesome Lake and Mounts Lafayette and Liberty to the east and north, as well as views southeast towards the Scar Ridge and Sandwich Range Wilderness, and southwest to Mt Moosilauke.
There are also opportunities for overnight backpack camping at the Kinsman Pond Shelter, although the shelter may be needed more by AT thru-hikers in-season.